---
---
Mauricio "Marty" Ramirez is a third-generation Nebraskan from Scottsbluff. He is descended from beet workers.
An avid baseball player, he played second base on Scottsbluff's state championship Midgets' baseball team in 1960. Marty would become the first Latino baseball player for the Chadron State College baseball team in 1964. He graduated from Chadron State College with his bachelor's degree in 1967 and joined the U.S. Army. He served during the Vietnam War and rose to the rank of sergeant when he was wounded in 1969 while helping guard a bridge near Saigon. He was awarded a Purple Heart for his service. Learn more about Marty's Military Service.
---
---
After returning to Nebraska, Marty earned his master's degree and a doctorate from the University of Nebraska-Lincoln (UNL). He first began to work at UNL in 1973 as a mental health counselor at the Department of Minority Affairs. After receiving his Ph.D., he worked with UNL's Counseling Center and later worked for the Department of Counseling and Psychological Services as a Counseling Psychologist. In this role, he was able to provide a support system and promote changes at the university to better accommodate students of color.
During his time at UNL, he founded the Mexican-American Student Association (MASA), a student-organization that serves as a support system for Latino/a students and allows an opportunity for Latinos/as to share their culture, perspective and concerns with campus officials and the student body. MASA continues to be active at UNL to this day.
---
---
---
Marty would work at UNL in this role for 38 years, and even though he is now retired, he still continues to advise, mentor and listen to students and community members who know to turn to him when they need help.
While working at UNL, Marty has presented numerous workshops both nationally and locally in the areas of mental health, career planning, diversity and cultural competence. By doing so, he has helped change the education and work environment to help students of color. He also served and continues to serve as a voice of the Latino/a community at public meetings and hearings with both the local and state government. He has testified on numerous bills and brought attention to issues with law enforcement and elected officials.
His actions and work have not gone unnoticed in the community both in and outside of Nebraska.

---
Accolades and Recognition
---
In 1992, he was presented with Omaha's "Mexican Independence Day Veterans Award" and was a recipient of Weber State's "Minority Lectureship Program" in Ogden, Utah.
In 1987, he was honored both locally and nationally; first, as the NEBRASKAland Days' "Hispanic Man of the Year" Award in North Platte and then with the "National Hispanic Man of the Year" Award by the League of United Latin American Citizens' (LULAC) in Corpus Christi, Texas.
In 2000, he was honored with the "Mentor and Allies Award" by Lincoln's YWCA Chapter.
In 2013, he was awarded the "Distinguished Alumni Award" from Chadron State College, and the "Melvin W. Jones Mentoring Award" in Lincoln in recognition for inspiring individuals through mentorships and promoting diversity in community leadership.
In 2014, he was appointed by then-Governor Dave Heineman to the Nebraska Sesquicentennial Commission as an advisor for the state's 150th celebration. Marty joined colleague Dora Olivares as the only Latino/a representatives on the Commission. Together, they worked statewide to ensure that the Latino/Hispanic community was part of the celebration.
---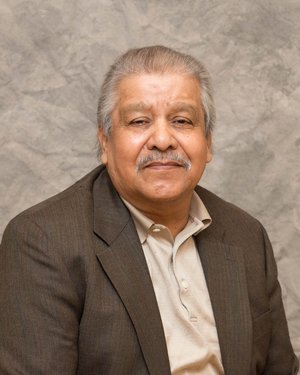 ---
---
Marty continues to serve as an advocate and supporter of the Latino/Hispanic community and serve as a voice for the elderly, veterans, students and all underrepresented communities in Nebraska.
Marty continues to reside in Lincoln with his wife, the former Connie Holm of Gering, children and grandchildren. He is currently working the Nebraska State Historical Society on identifying historic adobe houses in Scottsbluff and meeting with local leaders and issues affecting the Latino/a community.
---
---