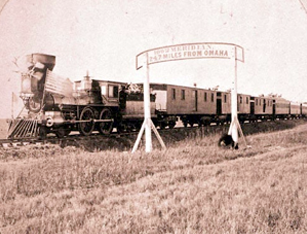 ---
---
Abraham Lincoln signed the Pacific Railway Act of 1862 on July 1, establishing the original Union Pacific Railroad.
---
Ground was broken in Omaha, Nebraska, in 1863, though the first rail wasn't laid until July 1865, three months after President Lincoln was assassinated. Seven years after the signing of the Pacific Railway Act, Lincoln's dream was a reality when the Transcontinental Railroad was completed.
---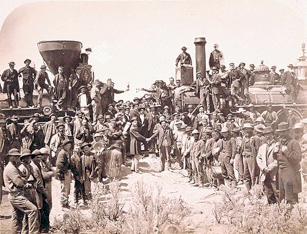 ---
---
Since the signing of the Pacific Railway Act, Union Pacific and Nebraska literally have grown up together. Communities such as Fremont, Columbus, Grand Island, Kearney, North Platte and Sidney were created as Union Pacific built west from Omaha.
In 2004, the company moved into its current 19-story, 1.2-million-square-foot headquarters in downtown Omaha. The building has enough space to hold about four thousand employees. Omaha also is home to the Harriman Dispatching Center, one of the largest and most technologically advanced dispatching facilities in the country.
---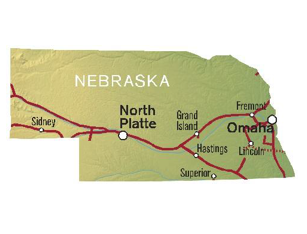 ---
In addition to providing vital transportation services for the state's industries, Union Pacific contributes to Nebraska's economic health by providing quality jobs, purchasing goods and services within the state and paying millions of dollars in taxes.
Union Pacific's main line through central Nebraska is the busiest rail freight corridor in America. More than 135 trains travel daily between North Platte and Gibbon. The route boasts one of the longest triple-tracked sections in the country to accommodate the heavy traffic.

---
---
Bailey Yard in North Platte is the world's largest freight classification yard. It covers 2,850 acres and incorporates more than 300 miles of track. Approximately 10,000 rail cars are handled daily within the facility. Of those, almost 3,000 per day are sorted in the yard's eastward and westward yards.

---
Nebraska is a vital link for rail traffic moving east to west. Union Pacific Railroad connects twenty-three states in the western two-thirds of the country by rail, providing a critical link in the global supply chain.
The railroad's diversified business mix includes Agricultural Products, Automotive, Chemicals, Coal, Industrial Products and Intermodal. Union Pacific serves many of the fastest-growing U.S. population centers, operates from all major West Coast and Gulf Coast ports to eastern gateways, connects with Canada's rail systems and is the only railroad serving all six major Mexico gateways. Union Pacific provides value to its roughly 10,000 customers by delivering products in a safe, reliable, fuel-efficient and environmentally responsible manner.
---
---