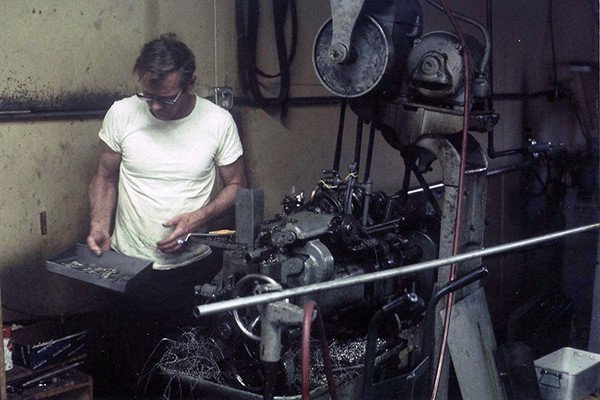 ---
---
Roland Temme, on the outside, looked like any other farm boy growing up on the plains of Nebraska. Even he didn't know he would someday own a company with over two hundred and twenty employees, covering four city blocks and utilizing cutting-edge technology.
---
By the early 1970s, Roland had earned a business degree from the University of Nebraska, and had worked as materials manager at Notifier Co., which at the time was making security alarms in Lincoln, Nebraska. He always had an interest in engineering, drawing and machines, and although he held a business position at Notifier, he couldn't help but be fascinated by their machine shop.
The machine shop manager at Notifier, Jerry Granger, was responsible for introducing Roland to the world of machining. The opportunity to set up a machine shop came in 1974, with a contract to produce all of the machined parts for Magnefax audio tape duplicating machines.
Roland's dream was to someday be a Total Manufacturing Company, but in the beginning TMCO was an acronym for Total Machining Company. With only eight simple machines including a lathe, a mill, a saw, a drill press, a grinder, a sander and a punch press, Roland says, "I will confess that TMCO being a Total Machining Company was quite a stretch of imagination in the beginning."
---
---
---
---
TMCO began operation in a small, eight-hundred-and-fifty-square-foot metal building sandwiched between the railroad tracks south of downtown Lincoln. In order to convince the landlord of his long-term commitment, Roland told him that he would eventually need to rent the larger, adjacent concrete building as well. Although he may have doubted his own projection at the time, TMCO would go on to not only occupy that concrete building, but own it. TMCO's machine shop still operates out of that concrete building today, and while additions have been built to house TMCO's ever-growing collection of increasingly advanced machines, the little metal building still stands as a reminder of TMCO's primitive history and the power of hard work and a dream.
In the 1980s, TMCO purchased some product lines of its own – the National Walking Sprinkler and National Manufacturing Cereal Chemistry. The National Walking Sprinkler, the original tractor walking sprinkler, had been made in Lincoln since the 1930s, and is still made at TMCO today.
---
---
National Manufacturing Cereal Chemistry is a full line of equipment used for industrial analysis of bread and grains. It includes ovens, mixers, fermentation cabinets and yeast gas meters, and seed sorters that are now produced and sold by TMCO. Since 1939, National Manufacturing had been supplying analysis equipment for the world's largest industry–food science and production. The National equipment was one of the first products that TMCO shipped worldwide, making them an international company. In fact, about seventy-five percent of TMCO's National Manufacturing sales are shipped overseas to food science laboratories in universities and laboratories around the globe.
---
---
A unique strength of TMCO is its Metal + Art division. When Metal + Art originally started in the 1990s, the goal was to make products out of TMCO's scrap metal. Eventually it became a liaison of TMCO's capabilities of metal fabrication to architects, developers, artists, designers and other high-input clientele. Metal + Art's products can be found all over the world. In Lincoln, almost every block of Downtown and the Haymarket has some of TMCO's Metal + Art influence. Just a few examples include the Rotary Pavilion dome at the Sunken Gardens, the awnings at the Arbor Day foundation, the sculpture in front of the International Quilt Museum and the ZOO sign at the Lincoln Children's Zoo.
TMCO started as a one-man shop, but through hard work and dedication to quality and innovation, every year brought new contracts with which TMCO could buy new machines, hire new employees and expand the size of its shop floor. Today, in addition to a state-of-the-art machine shop, TMCO has an even bigger fabrication shop with lasers, punches and a waterjet for cutting sheet metal and tubing, CNC benders and welders and an automated powdercoat line.
TMCO's commitment to investing its profits in new machines and new employees to manage them is central to its philosophy for success – "When you hire good people and give them the best machines, it's almost impossible to fail."
---
---